Lehigh Valley Health Network (LVHN)
St. Luke's University Health Network (SLUHN)
Lafayette's unique employer code: SCH55
Thank you for your continued patience with our COVID-19 vaccination efforts. St. Luke's is thrilled to announce that our network leadership has unanimously decided to roll out the next stage of our Educator COVID-19 Vaccine Program. Right now, we have enough vaccines that will permit our health system the ability to provide school districts with intermittent vaccination appointments. To receive the vaccine, eligible educator staff will need to be considered Phase 1a status as directed by PA DOH. Staff must be 16-64 with high-risk conditions, or 65 and older. Those in Phase 1a associated with your school district will be notified in the near future via MyChart to schedule their appointment.
For more information on PA Phase 1a COVID-19 vaccine qualifications click HERE.
In order to have your staff be prepared for this opportunity, we continue to encourage our educator partners to continue to pre-register on St. Luke's MyChart. Remind your staff that they will need to take the action of setting up a St. Luke's MyChart account, using your St. Luke's assigned "unique code" (Lafayette's code is SCH55), in order to receive future updates and be included as a COVID-19 vaccine candidate.
Pre-Register for Your COVID-19 Vaccination: (Video Instructions Below)
Log in or create your St. Luke's MyChart account HERE. If using a mobile device, you may download the St. Luke's App in your app store. If accessing MyChart via the St. Luke's mobile app, users can find the COVID-19 Vaccine pre-registration under "Questionnaires -> Optional Questionnaire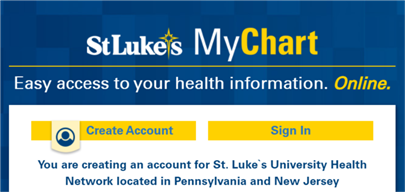 Even if you already have a MyChart account you will need to login, update your "unique code" and complete the questionnaire. IMPORTANT: During the MyChart sign up process you or your staff may receive an error or be asked for an "activation code". This is something separate from a unique employer code. An activation code can be obtained by calling 1-866-STLUKES (785-8537), option 5.
The questionnaire will be the first link you see on the MyChart dashboard as seen here.

After completing a brief questionnaire, MyChart users will be notified when it is their turn to schedule an appointment for the vaccine, which they will be able to do online.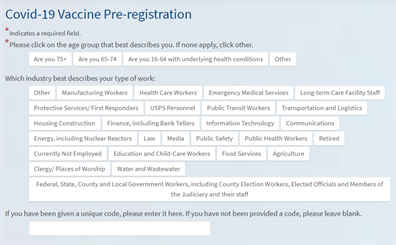 Helpful Videos:
How to Pre-Register for your COVID-19 Vaccination Click HERE
How to Create a MyChart Video Instructions Click HERE 
St. Luke's COVID-19 Vaccination Information: www.sluhn.org/vaccine
Individuals who are 75+are encouraged to use MyChart to make their appointment, however may also call, 1-866-STLUKES (785-8537), option 7 to schedule a vaccine. If you have any questions about the vaccine as it relates to your medical condition or situation, please speak with your health care provider before scheduling a vaccine appointment.
MyChart Questions:
Questions related to MyChart can be answered HERE or by calling 1-866-STLUKES (785-8537), option 5. Please note that due to an overwhelming activity of phones calls there may be a delay.